Transform Your Health…Transform Your Life!
Serving Fairfield County, Connecticut for more than 20 years
Am I the Trainer for You?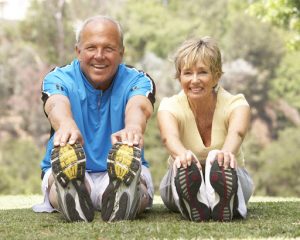 You want and deserve to look and feel fit and youthful, have more energy, sleep better, and not let pain keep you from enjoying your favorite activities.    
You've tried to reach your goals, but what used to work doesn't seem to any longer. Maybe you've been going it alone at the gym, doing what you think is right. Perhaps you've worked with a well-meaning trainer who uses a cookie-cutter approach–which often leads to injury. If your efforts have failed, it's not your fault. We all do the best we can with the knowledge we have. But the fact is, we can't know what we don't know!  
If you're stuck in the rut of believing it's too late to make any improvements or that you have to resign yourself to living with pain or injury, please put those fears to rest. I help adults just like you gain strength and muscle, lose fat, improve balance and flexibility, look and feel vibrant and healthy, and live the active lives they cherish!  
As we mature, the body's response to nutrition and exercise changes, and so our approach to diet and fitness must also change. The exciting news is that regular exercise throughout one's 60's and 70's can result in substantial gains in fitness, physical and mental health, and this we know through sound scientific research.   
My education and expertise in current exercise science methods will prevent those all-too-common injuries from the gym, exercise class, or typical trainer. We must adhere to the principles of science to maximize results. It's not about exercising longer, harder, or more frantically—it's about exercising smarter.  
Don't struggle on your own! Are you ready for a new opportunity with an experienced and knowledgeable professional to guide you?
How It Works
I create customized fitness programs for my clients, utilizing a variety of modalities. What sets me apart from most other trainers is that I closely adhere to sound scientific principles that maximize the potential for results while minimizing the risk of injury. Common sense would dictate that this is always important no matter who the client is but becomes more critical as a client's age advances.  The fact is that a 50-year-old's body does not respond nearly as quickly to exercise as a 20-year-old's body and is much more vulnerable to injury. The average gym-goer may have only a vague understanding of these principles and, thus, applies them out of context. Likewise, most trainers don't enforce them with their clients, probably because they, too, don't fully understand their value. Using proper form and correct application of techniques makes the distinct difference between attaining meaningful, significant gains that are realized efficiently versus increasing the risk of injury and delay or outright failure in reaching one's goals.
The left-hand diagram below illustrates a typical sequence of events that results from not using these principles correctly or at all, versus using proper form and technique, shown on the right. For a more in-depth discussion of these principles, click here.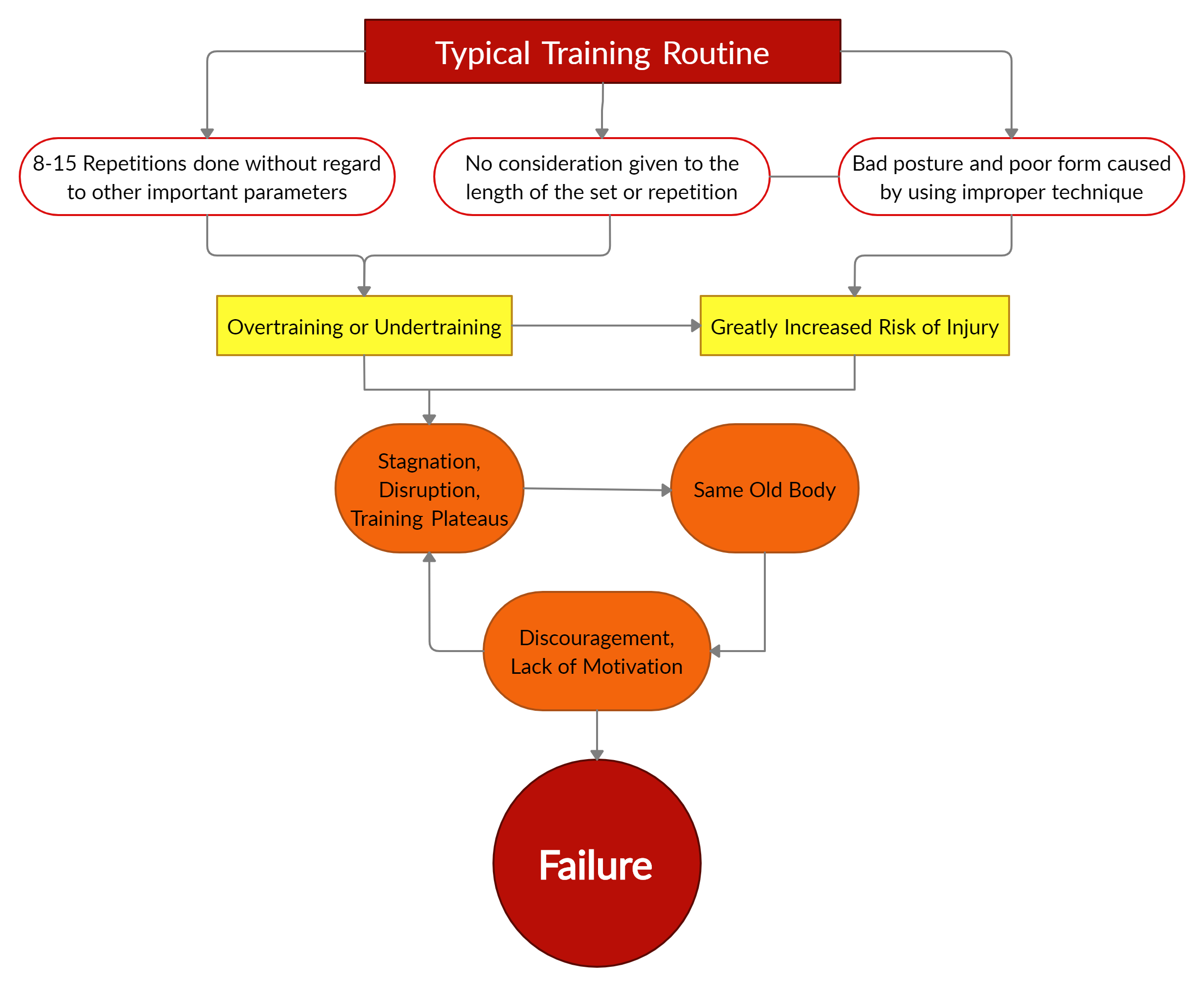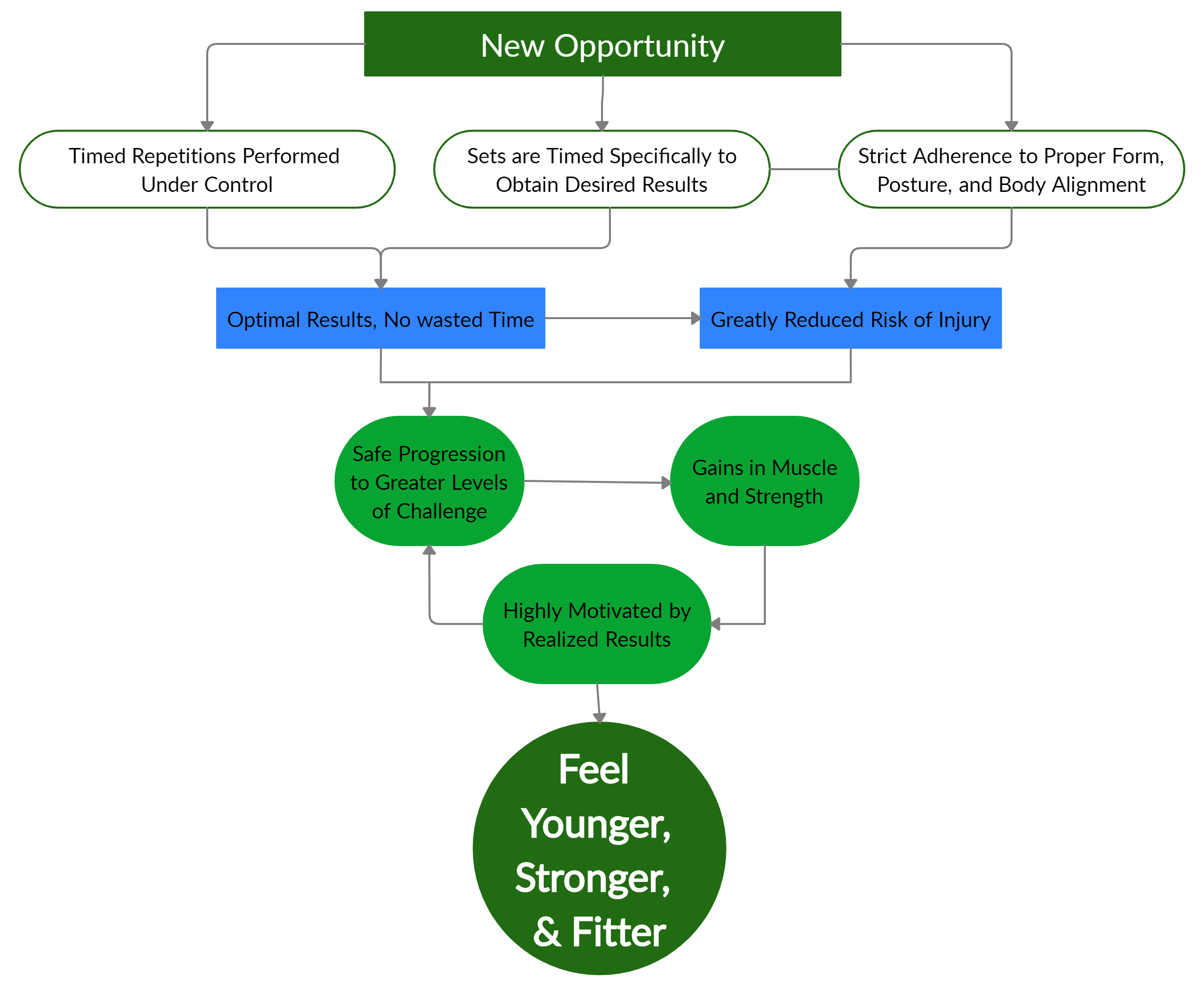 What You Can Expect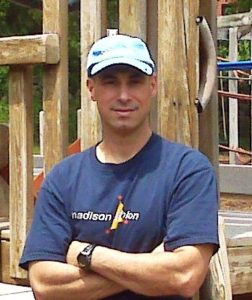 Reassurance that you are working with the industry's best who puts your health and safety first.
Customized programs tailored to your needs.
Noticeable, measurable changes in how you look and feel.
Better, more restorative sleeping patterns.
Improved performance with less injury doing the activities you love, such as golf, racket sports and swimming.
More energy and confidence in your everyday life.
You will be amazed at what you can achieve!  Get lasting results you never thought possible utilizing Carlos' expertise and accountability.  He will help you get into the best shape of your life and keep you there! 
Request a Free Consultation
Pain-Free

I had torn my hamstring. Months of rehabilitation had not produced adequate results. Carlos was sensitive to my condition, knowledgeable in how to deal with it, and within a short period of time, I was pain-free and ready to take on new challenges.

Jump start turns into 5 years

I started to train with Carlos to give myself a kick start and face my fears in the gym. Carlos not only made me feel comfortable, he gave me great praise and support. I found myself striving to do better and looking forward to our weekly sessions.  For that reason, my "jump start" turned into 5 years of weekly sessions.

Knowledge and Experience

I was looking for a trainer who could help take me to the next fitness level, while keeping my workouts fun, challenging and safe. My introduction to Carlos fulfilled my desire.  His knowledge and experience is extensive.

Chronic Pain Help

I was at the time morbidly obese with multiple health issues. I had Fibromyalgia as well as late stage chronic Lyme's disease. I couldn't move without pain and I had given up. He was very compassionate in my situation and tailored our workouts to be gentle on my joints. He was so energetic and motivating he got me moving again even through the chronic pain! 

Weight Loss and Improved Performance

Playing a competitive Division 1 sport I am familiar with what it takes to get into great shape and meet your fitness goals. I started using Carlos about 2 years ago and have been able to drop 30 pounds and reduce my body fat by about 10%.  I've Improve my golf game, eat healthier, and found an overall better quality of life. Unlike trainers that I have worked with in the past Carlos' routines never get old. He continues to find new ways to keep workouts cutting edge, but at the same time still making sure that I am meeting my fitness goals.  Just like anyone I dreaded getting up to workout, but Carlos has made it fun, and with his personality, it is like you are working out with a great trainer, but also a friend. I would recommend Carlos to anyone who wants to reach fitness goals from any standpoint. He is the best.

No More Back Pain

I started training with Carlos in the spring of 2010 and we discussed fitness goals to improve my golf and skiing. I found his energy and enthusiasm contagious and saw immediate results as 3 months later I won my golf club championship and I no longer had lower back pain from my golf swing.  As we moved into the ski season he adapted our workout program for this sport and I have seen the results on the slopes as my improved endurance and increased flexibility have made me a better skier.  Carlos brings the complete package to your home and varies his routines so that you're constantly engaged and highly motivated. I look forward to our regular workouts and have seen the fitness improvement I was seeking from our training.